NO PARABENS. NO SULPHATES.
PAPAYAGOLD PAW PAW Balm, enriched with Bio Active Manuka Honey 20+, is a topical balm that soothes, relieves and moisturises dry, sensitive, chaffed and irritated skin and dry chapped lips. Apply regularly to skin and lips as required. Can be used by people that are prone to eczema, psoriasis and dermatitis. Also suitable for children.
The enhanced formulation combines the benefits of Australia's tropical Paw Paw fruit, further enriched with New Zealand's bioactive Manuka Honey with a 20+ grade. Farmed at altitude from the Nectar, Manuka Honey's healing properties have been celebrated for centuries. Manuka Honey with a grade of 20 and above is considered therapeutic and has been hailed "miracle" honey by researchers at Cardiff University.
Paw Paw (or Papaya) contains the enzyme Papain which helps to lower inflammation and to improve healing from burns and cuts; it can even reduce inflammation in certain diseases such as osteoarthritis and rheumatoid arthiritis.
MANUKA HONEY BENEFITS
Antibacterial
Antimicrobial
Antiviral
Antiseptic
Anti-inflammatory
PAW PAW BENEFITS
Anti Bacterial
Antimicrobial
[three_col pos="last"]
Available now!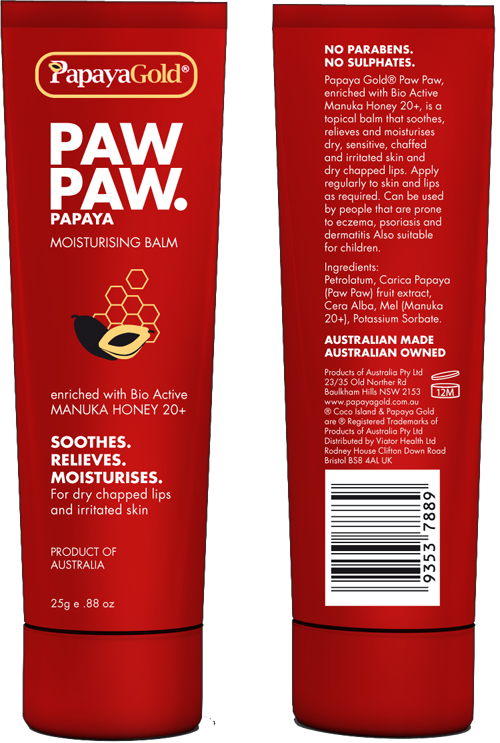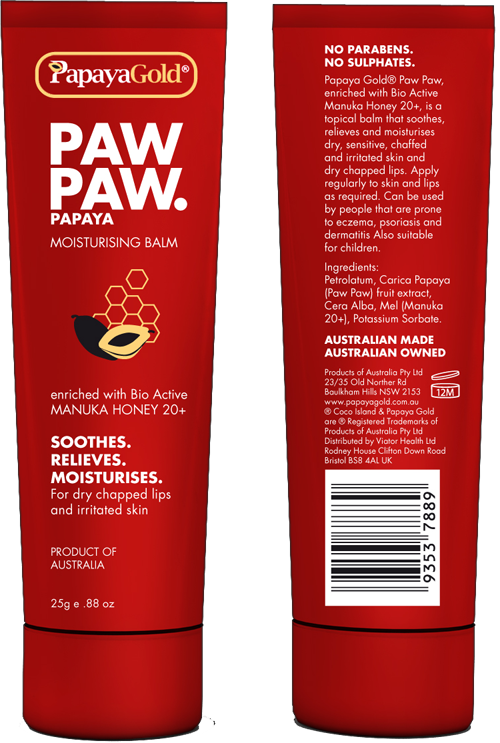 PAPAYAGOLD PAW PAW Balm available now in 25g tubes.
Buy now!
[/three_col]