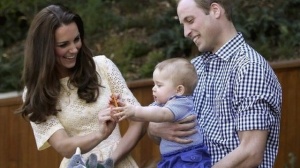 As the royal tour draws to a close, there's no doubt Prince George stole the limelight. But what has the young family's visit revealed about Australia and New Zealand's attitudes to the monarchy?
From the moment he was carried down the aircraft steps by his mother on their arrival in New Zealand on Monday 7 April, Prince George was the star of the show.
He has only appeared twice (other than at airports) and even then the settings have been carefully managed – first at a specially convened playgroup in Government House, Wellington and then, memorably, at a new enclosure at Taronga Zoo in Sydney.
On each occasion the appeal of a nine-month-old future king has upstaged even the glamour of a future queen consort and her husband.
http://www.bbc.co.uk/news/uk-27139389