Hello My Lovelies,
As you read this I'm laying in the sun and sipping on a cocktail in Malta!! Whilst I'm away why don't you have a look at my product of the month for July!
My product of the month is….Papaya Gold Paw Paw Moisturising Balm.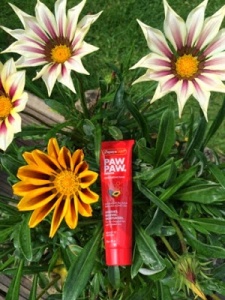 A balm that soothes, relieves and moisturises and that it does! This little tube of joy has so many uses that it reminds me of my holy grail product Vaseline!
I've used it on my lips, try patches on my arms, a rash on my hand and its helped on all occasions. The back of the tube says that it can be used by people that have eczema, psoriasis and dermatitis as it is enriched with bio active manuka honey. Whilst this product has been brilliant so far this summer I think the Paw Paw will work best in the winter-I don't think it will leave my bag during the colder months.
I picked this up in Boots for roughly £5 but I'm pretty sure you can buy it from Superdrug too for the same price. You get 25g of product for that price and you literally only need a pea sized amount so will last ages even if you use it everyday.
Have you tried Paw Paw balm? Are you going to be buying it? Let me know in the comments.
Till next time,
Tori.
x
Blog found on http://www.bloglovin.com/viewer?post=3203625369&group=0&frame_type=b&blog=5159995&frame=1&click=0&user=0