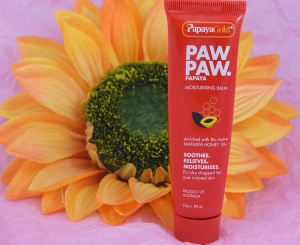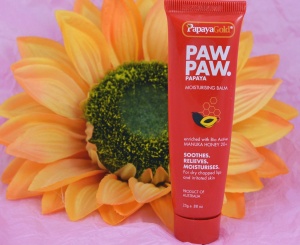 http://www.teaseflutterpout.com/2014/08/papayagold-paw-paw-balm.html
Every now and then you try a product that swiftly becomes one of your favourites and your left wondering how you managed without it. This is exactly how I feel about this product. I was sent this a while ago by the lovely people at papaya gold and I have been using it pretty much everyday since.
Paw paw balm from PapayaGold* is a clear gel like product that can work miracles on a number of complaints, such a releiving dry chapped lips, smoothing sunburn and even deeply moisturising parched dry patches of skin to leave skin feeling silky smooth.
So what exactly is paw paw balm?
Papaya Gold say:
PAPAYAGOLD PAW PAW Balm, enriched with Bio Active Manuka Honey 20+, is a topical balm that soothes, relieves and moisturises dry, sensitive, chaffed and irritated skin and dry chapped lips. Apply regularly to skin and lips as required. Can be used by people that are prone to eczema, psoriasis and dermatitis. Also suitable for children.
The enhanced formulation combines the benefits of Australia's tropical Paw Paw fruit, further enriched with New Zealand's bioactive Manuka Honey with a 20+ grade. Farmed at altitude from the Nectar, Manuka Honey's healing properties have been celebrated for centuries. Manuka Honey with a grade of 20 and above is considered therapeutic and has been hailed "miracle" honey by researchers at Cardiff University.
Paw Paw (or Papaya) contains the enzyme Papain which helps to lower inflammation and to improve healing from burns and cuts; it can even reduce inflammation in certain diseases such as osteoarthritis and rheumatoid arthritis.
PapayaGold – Paw Paw balm – moistursing – lip care – skin care – body care – sensitive skin – multi use – handcare – dry skin – soothing – balm – fix chapped lips – swatches – review
It comes in a 25g red tube, which is perfect for popping in your bag when out and about. I have been taking this everywhere with me for use on my lips and soothing mosquito bites. The texture is similar to petroleum jelly yet not as dense and is a lot better for your skin .
I am amazed at how versatile this product is,.I have used it on burns, as a barrier cream when dying hair and to moisturise my knees and elbows before tanning. This is one of the reason's it is growing such a cult following including celebs such as Holly Willoughby
I suffer with dry lips on and off and this has become my go to product for leaving my lips soft and smooth. It is without doubt one of my holy grail products and will be stocking up so I can have it on hand all the time. I really cant recommend this highly enough. It costs £5.99 for a 25g tube and is available online as well as at Superdrug and Boots.
What products are on your holy grail list? What products do you use to relieve dry skin and chapped lips? Will you be trying paw paw balm?
Lots of Love,
Laura x